There are many things that you can expect to see in an aikido dojo depending on its focus. You might have training in meditation, break falls, joint locks, weapon classes, and so on. There is one thing though, that is strangely absent from an aikido dojo. You just don't see it anywhere, not even in the thousands of hours of video footage available online. While many people will tell you aikido is missing several key elements, very few notice this missing aspect.
What is missing then? Somewhat surprisingly, it's aikido. Arguably, you have never seen aikido. Not in your dojo, not at a seminar, or on a video, or anywhere else you can think of. An actual display of aikido does not exist, and this is a direct result of our training method. It's not that we can't do it, it's simply that nobody has taken the required steps to be able to do it. Aikidoka have all the tools, but no idea how to deploy them. Despite what you think, you've never seen aikido.
There is, of course, the simple truth that absence of evidence is not evidence of absence. However, the scale of the absence means that if it does occur, it's so rare it's proving impossible to find.
First Define It
It's worth pointing out that this is definition dependant. Here we are taking the very simple definition of aikido as, 'a martial art that can be used for self-defence'. This is a very simplistic definition that has a very broad scope, but it is valid. (Some shameless self-promotion – I wrote an entire book to help myself define aikido). While you may disagree that aikido is a martial art, it's worth considering that you cannot have aikido without the functional martial aspect. The philosophical/ spiritual aspects mean nothing without the inherent violence, and vice versa. Both aspects exist together, and you need both to become a complete aikidoka.
You're Arguing WHAT?
An incredibly outlandish claim has been made here, that you've never seen aikido. Seems strange because let's be honest, the one place you're going to see aikido is an aikido dojo. Right? It has to be, because where else would you find it? Good question, glad you asked. The answer is nowhere.
Not In Competition
Let's consider the first and simplest thing that most aikidoka can agree on. Aikido is not a competitive art. There are standard responses to, "If it's so great, why don't we see it in MMA?" One of these is that, "It's not designed to be used in that environment, and context counts."
The importance of this can be difficult to see. This isn't about competition in itself, it's about the art lacking elements that competition provides. Namely, free-flowing attacks and responses. We're not going into the detail of aikido competitions here. (More shameless self-promotion – I wrote a series of blog posts and a different book to cover that one). Those details aren't relevant to this discussion, what we want to consider is what a lack of competition does to aikido as a martial art.
Lack of Competition
This isn't the huge problem to developing aikido that some would have you believe. It does present at least one issue though that is hard to overcome in regular training. Quite simply, competition provides more realistic aggression. The attacks provided in competition are harder to deal with. That's just a simple truth. That lack of realism prevents aikidoka from noticing something very specific about their techniques.
It is possible to perform aikido techniques on a fully resisting opponent. They do work. It's not easy though, actually landing them is very difficult. This is mostly due to lack of training against resistance. More importantly though, it's because they take too long. A lot of time is required to pull off shiho nage compared to, say, a hook punch. This gets mitigated by correct positioning during the technique, but the time factor is still there.
This raises a serious question, if the techniques take so long, why do we do them?
Techniques of Aikido
It can be argued, and there are quotes from O Sensei alluding to this, that aikido has no techniques. That's a problem. If that is true, then what are we practicing in a dojo every week? That's easy to answer, we're learning and practicing aikido, just not the way you think.
This is the heart of the matter, and along with a couple of observations, will lead you to the logical conclusion that you've never seen aikido. Consider what a normal training session looks like. Got a clear picture in your head? Excellent. Now watch this randori video and, very carefully, count and name the techniques that you see in it.
Zero, perhaps one if you're being generous.
That's a surprising number isn't it? There's a serious disconnect here between randori and training. Most aikidoka will agree that randori is the closest we get to live combat in a dojo. In that case, where were all the joint locks, where were the kaiten nages and irimi nages? Where were the aikido techniques?
Those are serious questions. You cannot simply dismiss them because the answer is difficult or unpleasant. There are several possible answers though.
It's a Bad Randori
This is the most obvious. You can make the argument that it's a bad randori. The problem with that though is that it's not. While it is by no means perfect, it deals with four ukes by effectively controlling the space, motion, and distancing. The nage (in this case me), doesn't get caught and pinned down, or forced off the mats. The ukes were free to attack in any manner they chose, they simply didn't choose anything else. Partly because the ukes were predominantly forced into their choice of attack by my movement.
This was not a bad randori.
There Wasn't Time For Techniques
This is less obvious, but it's also true. In a proper randori where the ukes do not politely wait until nage is ready, the primary problem is time. Space can be easily managed, so can ukes. When the speed increases though, difficulties arise. Not because it's faster, but because there is less time to deal with things. As Randy King says, "Self-defence is high speed problem solving." So is randori.
The Visible Consequence
Consider the number of techniques you saw in that randori. Why were there so few? Here's the real question, why was there anything other than aikido techniques?
The logical conclusion is that it was all aikido. It certainly looked like it was aikido. The practitioners were wearing hakama and everything. But seriously, given the video was taken from one of my dan gradings, adjudicated by a 7th dan, we can safely say it was aikido. So where were the techniques?
There is only really one viable answer to this. Everything in the randori was aikido. It's just not what aikido looks like in normal training. Now that raises a very interesting conundrum. If normal training is aikido, and the randori is aikido, why don't they match?
What if one of them isn't actually aikido, or to put it differently, what if one of them is aikido adjacent?
A Lesson From Boxing
Consider these two videos of boxing.
Both of these clips quite clearly show boxing. Show them to almost anybody and they will tell you they are looking at boxing. The problem is that they show completely different things. The first clip shows boxing training, the second shows boxing. Another way to say this is that one of them is boxing, the other is boxing adjacent.
Boxing is what happens in a boxing ring. There are two competitors, a referee, ring judges, corner men, rules, and so on. Boxing training is how you prepare for that. The training is adjacent to the fight. To be very clear, boxing training is a requirement to learn how to box, but boxing training is not boxing.
A Lesson Applied
Now, take that knowledge and apply it to aikido. The training is a requirement to learn aikido, but the training is not aikido. The same principle from boxing applies here. The techniques that aikidoka train are the tools needed to develop aikido. Arguably, they are not actually aikido. If that's true, then you've never seen aikido.
There is no question that the techniques cannot be used in a live combative setting; because they can. You just need to be extremely good to do this well. What is much easier, and more sensible, is to use the fundamental combat applications that those techniques teach, and apply them instead.
You Are Not Learning What You Think You Are
Consider what shiho nage is teaching you. It's to intercept a strike, guide it past your centre, duck under the now extended arm and turn around to throw the attacker to the floor. Right? Wrong. Dead wrong.
What it's really teaching you is how to disrupt the balance of an attacker at the point of contact, and how to keep that by extending and rotating the arm. It's showing you how to close distance from that position and obtain a martially superior posture. It's teaching you how to open up the rib cage to land devastating strikes. You're learning how to position a body to cause maximum damage to the back of the skull from either a knee strike or driving it into the ground. You're finding out how to take complete control of that person to use them as a human shield against their friends, which in itself is teaching how to control a captured opponent.
What you are told shiho nage is teaching you is a very small part of what you are learning. Unfortunately, this is true of every single technique that you practice in aikido.
It's A System of Tools
What then, are the techniques that we practice in the dojo? They are a set of training aids, the system that we have to teach us aikido, but they are not aikido itself. They are a training method, and a training method is not the art. In the same way that boxing training is not boxing or that using a rowing machine is not rowing. We have a training system, and it does work (though very inefficiently), but that's all it is. A training system. If all you've ever seen is this training system, then you've never seen aikido.
How Did This Happen?
Again, this is easy to answer. Through the tireless work of many influential people, aikido has spread far and wide. With this expansion came a need to standardise. O Sensei didn't ever really codify aikido into a set of techniques to practice. That was the work of his students and the first doshu, Ueshiba Kisshomaru. Part of Kisshomaru's mission was to spread aikido to the world. To do that, a curriculum was needed, so one was created.
If you look at any organisations syllabus, you'll notice that they all have something in common. They are all concentrating on the basics of aikido, and very little beyond that. Every year the Aikikai put on a demonstration and the top shihan take part. It's called the All-Japan Aikido Embukai. It's several hours of identical performances. There is, naturally, some variation in there, but you could count on one hand the number of people that do not do the basic techniques. Almost nobody does randori.
There was an old video series focused on aikido's lost techniques. These techniques aren't completely lost, it's just that very few people know how to do them. The reason for this can be found on the syllabi of the organisations. Once you remove a technique, it no longer gets practiced. There is a tendency for people to focus on training for the next grade. If a federation creates a syllabus that only has the basics on it, such as the Aikikai's, then only the basics are learned.
A Far Reaching Problem
This presents us with some major concerns. First consider the previous point, that the techniques are teaching tools. If that's the case, then most aikido federations have unwittingly thrown out entire chapters of their textbooks. Consider ganseki otoshi (shoulder carriage/wheel). Many aikidoka think they have seen this but they haven't. Ganeski otoshi involves taking uke onto your shoulders with them facing upwards, not downwards. When they face down it's a different technique with a much easier ukemi.
Due to the nature of ganseki otoshi, it is very difficult to do without great body alignment and structure. You essentially drop your weight and perform a back squat with the other person. Without good posture you run two risks, the first is failure to execute the technique. The second is physical injury to your spine. There are many important lessons in this technique, but we don't learn them because it's not on a syllabus.
This isn't just the aikikai either. If you want a fun exercise, try and find an official aikido syllabus that has all of the following techniques listed on it:
Ganseki otoshi
Kubi nage
Kata gurume
Kata gatame
Rokkyo
Ude garami
Juji nage
Aiki otoshi
Shomen ate
Gaedan ate
Not A Surprise
To be completely fair, it's not a surprise that this happened. To ensure that people are practicing the right things at the right time, you need a standardisation of the basics. When your organisation spans the globe, then that means cutting things down to make them accessible to everybody. When you're also interested in expanding your organisations reach, that means making it appealing into the bargain. Very few people are comfortable taking the full ukemi from ganseki otoshi.
The result of this though, is that you end up with a lot of people that can only perform the basics. You end up with an annual demonstration where everybody does the same thing. You stifle the progress of almost everyone in your organisation, because nobody knows about the things you took off the syllabus. Compound that over decades and you have a serious problem. You end up with a situation where aikidoka have never seen aikido.
Shuhari
What all of the above comes down to is that we have the majority of aikidoka operating in the shu stage of shuhari, with a few working in the ha stage. Almost nobody has broken through to the final ri stage of the progression.
The is because we don't seem to realise that aikido techniques are not aikido. They are teaching tools to take you to the ri stage. Until the people operating at the top of the ha stage come to that realisation, we will never see aikido.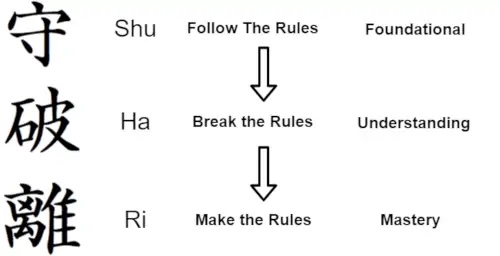 This Is Why Aikidoka Fail
YouTube is littered with examples of people trying to use aikido in sparring, or a free-style situation, and failing. There are some very famous examples of this. There are even more videos of people claiming they know how to 'fix' aikido to make the techniques functional. As an interesting side-note these 'fixes' usually involve either punching someone, or just doing it harder, faster, and with more aggression. Neither of which can solve the problem; because they still aren't doing aikido.
The aikidoka always fail in the sparring for a very simple reason. They aren't using aikido, they're using the teaching tools. They are trying to make a technique fit into a situation that it doesn't belong in, and was never designed for.
The real tragedy of this is that after failure, most conclude aikido is useless in a fight and walk away, or make terrible excuses. The catch is that aikido didn't let them down, because they never used it. Not one of these videos has ever made use of aikido. You can tell, because they are all trying to use the techniques you see in a dojo. It's not a surprise though, because if you've never seen aikido, how can you use it?
The Functional Martial Art(ist)
The failure to progress to a higher level of training is the reason that everybody fails when they try to use aikido against another fighter. It's possible that aikido is the only art to suffer from this concern. No other art seems to have this problem, it's very clear that their techniques are meant to be used as practiced. In aikido, while you can use the techniques you train, those are not really aikido. Those are our version of hitting a punch bag.
If an aikidoka has only every trained in the standard pedagogy then they are always likely to fail. They will never be able to fully deploy aikido in a combat setting.
So Where Can You See Aikido?
All of this does, naturally, lead to very obvious and specific question. If you've never seen aikido in the dojo, then where can you see it and what does it look like? While it's tempting to quote Justice Potter Stewart's "I know it when I see it", that's not going to be sufficient to answer the question. It also breaks New Rule #1.
The first part of the question is very easy to answer. You can't see it. There is nowhere I know of that you can go and see a demonstration of aikido. Of course, this brings it squarely back to the absence of evidence issue. But having trained in 8 countries, for over 2 decades, with thousands of aikidoka, and countless hours watching videos and reading books, I've never seen aikido. If all you have seen are people performing the techniques you see in a dojo, then you've never seen aikido either.
What Does Aikido Look Like?
This part of the question is a lot harder to answer. How can we describe something that nobody has ever seen? The answer comes from the few examples we have that touch on it. These examples come from randori and show a brief glimpse of what happens when you progress to the next level.
Since randori becomes devoid of technique, its set-up pushes the aikidoka towards the final level of their martial training and progression. (Caveat: This being the final level of martial aikido training is an assumption. There may be more beyond it other than just increasing skill level at that stage. Until somebody reaches that level, we won't know for sure). As such, the best place to find aikido is in the randori.
There is a short randori video featuring a young Saotome Mitsugi that appears to show glimpses of this next level. The footage is very old, but you can get a sense of what he is doing. There are moments where there is simply no technique, nothing other than the manifestation of aikido principles and fundamentals.
Aikido, when you progress beyond the basic training tools, becomes a superior form of biomechanics.
How Do You Get There?
Another question that springs to mind is how do you progress to this next stage of training? The first thing to do is start by accepting that what you learn in the dojo is a way to get there, but that you need more than that. You cannot abandon the techniques we learn, because they are one of the tools you need. The others can be discovered by a careful consideration of what the flaws of those techniques are, and what you would need to do to eliminate those flaws. This does not mean striking. Nor does it mean grappling.
It means closing the holes in the techniques. Most of these are brought about through poor martial awareness, such as disrespecting the Line of Attack. Others though, are much more basic. A simple consideration of the time it takes to land a hook punch compared to the time required to move your whole body forward and out of its range should tell you everything you need to know.
Ultimately, the standard training method will fail you. You will never achieve the highest levels of aikido if that is all you are relying on. We need to break out of the standard training cycle and explore methods beyond it.
What Does All This Mean?
The most obvious thing is that no matter how good you are, your training is nowhere near complete.
Not in the humblebrag sense either. In a very real and literal way. There is an entire landscape of aikido that nobody is practicing.
If you want to get there though, and we all should, then you will likely have to devise an entirely different training system. That's not as hard as you might think but does take experimentation. What that training would look like is an unknown at this stage. One thing about it that seems likely to factor in though, is an element of sparring. If not sparring, then a very real and intense state of randori. Another aspect is going to be development of complete harmony with a fully resisting opponent. Neither of those things are in any way simple to achieve.
One thing that we can determine for certain though, is that aikido contains a lot of striking. Not on purpose, and not in the form of an actual strike. The logical conclusion of atemi in aikido is that it's the result of poor ukemi. We covered that last month in a revisit to the quote, "Aikido is 90% atemi".
As the path to the next stage is unclear there is little to offer in the way of guidance. Perhaps the best place to start is to look at the training tools we have, the techniques, and ask, "What is this really teaching us?" If you ignore the obvious answer then a mind-blowing journey awaits, and the destination is Aikido.
---
If you can afford it, and would like to help out,
consider donating some brain fuel!
Also, if you enjoyed this post you can find further insights in this book.