The idea that "aikido is 90% atemi" is a persistent one. There's even a post on this site suggesting that this is the most misunderstood quote in aikido. In this post, we're going to revisit it, and consider a new point of view. One that may make it the most accurate aikido quote in existence.
The previous blog entry argued that this quote wasn't referring to atemi as striking. Rather, it was referring to a 'hitting body'. That's the ability to hit the opponent with any part of your body during the technique. This was the only logical conclusion based on what we could see. It meant that, instead of striking 90% of the time, we should be performing irimi 90% of the time. This makes a lot more sense based on the evidence before us, and fits with the martial aspect of aikido. We're returning to this quote because that interpretation now seems to be wrong. Not completely wrong though, maybe just 90% wrong.
The Original Quote, In Context
Before going any further, it's worth knowing what was actually said.
'The founder, Ueshiba sensei, said, "In a real battle, atemi is 70 percent, technique is thirty percent." […] In a real battle, we must use the power that we have developed in our bodies in the dōjō and use it explosively in an instant; we must decide the outcome of the fight at that moment. In that situation atemi becomes very important.'

Pg 24. Total Aikido: The Master Course, Gozo Shioda, Yasuhisa Shiodoa
The first thing to observe here, are that the percentages are not 90/10. What's interesting though, is that we can reasonably eliminate the possibility that O Sensei didn't say it. That's based on the idea that one of his students wouldn't deliberately mislead about something he said.
The other thing that jumps out is the explanation provided with the quote. What is Shioda referring to here?
A Deeper Explanation
For quite some time I've experienced a rising awareness of what the term 'hitting body' might mean. As observed in the original post, this is the idea that you can strike with any part of your body as you enter. Put in context though, Shioda is suggesting that Ueshiba was talking about something else. He seems to be implying that you are actually hitting them. That the atemi is in fact, striking.
That atemi may well be with any part of the body. It may be that you have to have a 'hitting body' to achieve this. Regardless, the suggestion that you are going to strike an opponent 70% of the time is quite clear. Unfortunately, this brings us right back to the original problem, not even boxers punch 70% of the time. If we believe O Sensei, then something is wrong somewhere. Aikido is either missing a serious amount of atemi practice, or we have a serious misunderstanding about our art.
At this stage, we can rule out that aikido is missing a large volume of atemi practice. Watching the footage of O Sensei and his direct students confirms this. They're clearly not hitting anybody that much. Sadly, this means there's an understanding problem.
It's not too difficult to solve though, and the quote, as well as it's context, point the way to a solution.
---
Beyond The Hitting Body
Let's consider the somewhat radical concept that both things are correct. That the interpretation of this quote as having a hitting body is completely true. But also, consider that you will end up hitting the person 70% of the time. Don't forget, the quote includes the word 'real'. This isn't about dojo training or demonstrations, this is about fighting another person.
That raises the staggeringly obvious, and still unanswered question, how on earth are we supposed to be hitting that much of the time? This is where the context comes in. It also helps if you consider certain aspects of the aikido techniques in combination with the word 'real'.
Martial Artists Are A Small Subset
The majority of people that get into fights, outside of organised competition, have no prior training in how to fight. That's a fairly bold assertion but it's not that difficult to verify. Watch some security camera or street fight footage on YouTube. The combatants are not exactly what you would call trained. The popular exceptions are the ones that are, but their training is why they stand out. Years ago, I worked as a Bouncer in a small town with nine different martial arts clubs. I never had to throw down with anybody that had training. Not even once.
This is really important. It means that in a real fight the majority of people have no training. For an aikidoka, this means that the person confronting you may have no concept of ukemi. None whatsoever. Now, ukemi is so much more than falling over. It deals with many aspects of movement, but one of them is how to move so that you end up falling instead of breaking. A function of ukemi, is to move yourself into the most martially sensible position from which you can attack again. That takes training, and people without it won't do that. They'll get twisted up and crumple, often painfully.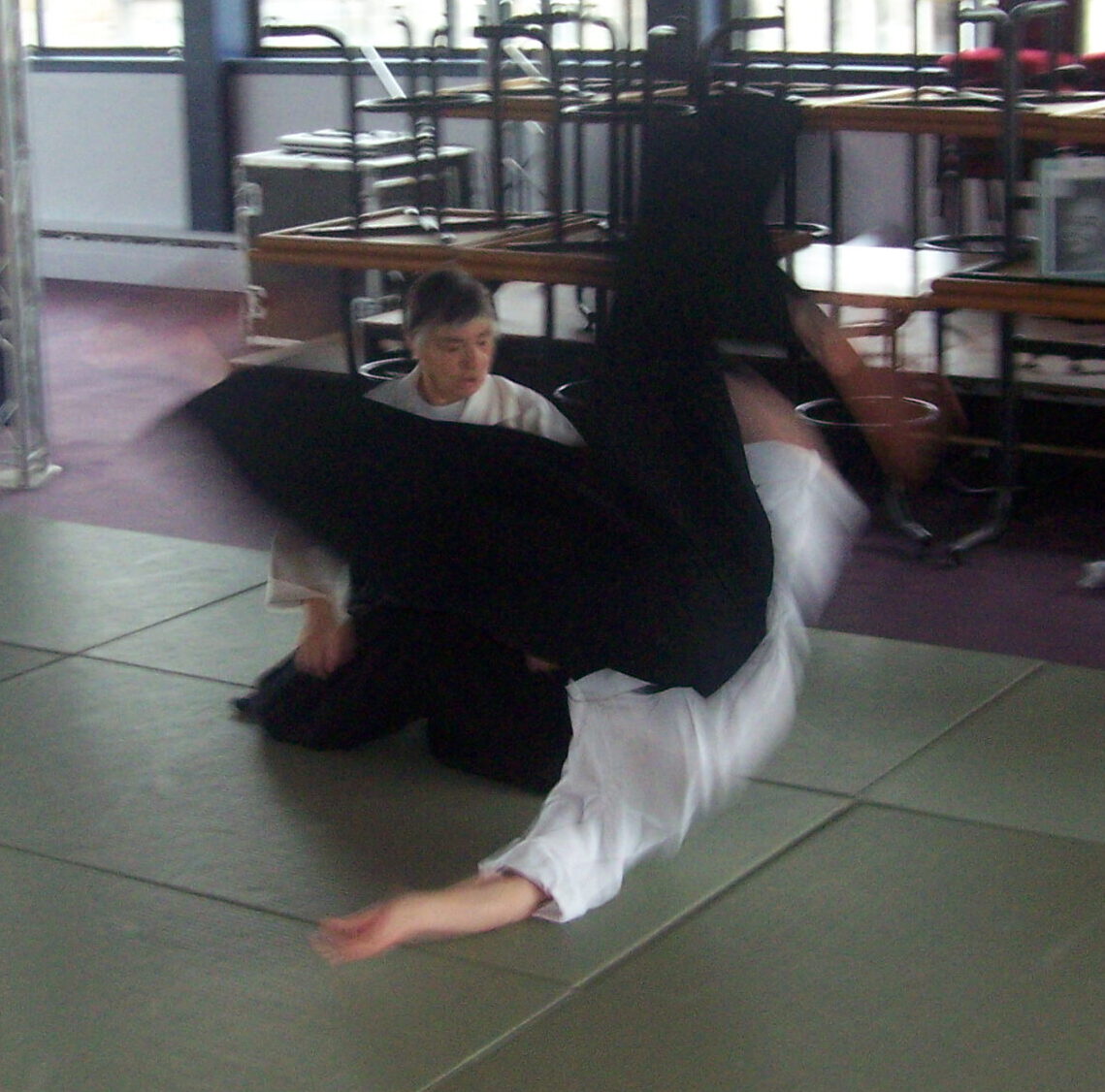 What Difference Does Ukemi Make?
This is where we start to realise that the quote is completely accurate, and the flaw is in our understanding of aikido. First, accept something that you already know. What we do in a dojo is amazingly fake. It's set-up in a particular way for us to learn some particular things. One of the most important factors is that everybody on the mats knows what is happening. Even during a randori this holds true. While a randori is not planned out, nobody invents new techniques on the fly. Certain entries lead to certain outcomes, and we know what those are within the bounds of our art.
Consider the new student on their first night. Everybody has to practice carefully with them, because they don't know what is going on or how to fall. The beginner is at a much higher risk of injury, because they have no understanding of ukemi.
This lack of knowledge extends beyond falling over. It covers the entire technique. It means that the majority of people have no idea how to defend themselves from a strike. At all. They have nothing more than their instincts to guide them, and those are predictable. For example, if you throw a hand into someones face they'll probably lean back a bit, and raise their own hand to stop you. For an aikidoka there are two outcomes from that scenario. The first is you are faster and punch them in the face. The second though? Well, we call that ikkyo.
Consider Some Numbers
One thing to be aware of when considering this quote. It's likely that O Sensei made up the 70/30 split on the spot after some consideration of his own experience. Still, we can argue that the numbers refer to the possibility of encountering a person with training vs someone without. The 70% would be those without training, the 30% those with it.
If that's true, then if you use aikido in a real battle, you're going to hit a lot of people.
Most Of Aikido Is Atemi
This is a bold statement, but it holds up as a potential meaning of the quote. Irimi and tenkan are two of the most important fundamentals in aikido, though many argue that there is no tenkan, only irimi.
When performing irimi in aikido, you need to raise your hands to both make contact and prevent a strike from uke. Think about that for a moment. Functionally, when you perform irimi, you drive in towards uke's centre with your arms raised and extended. That's called striking. You could even suggest that it's called hitting with your whole body.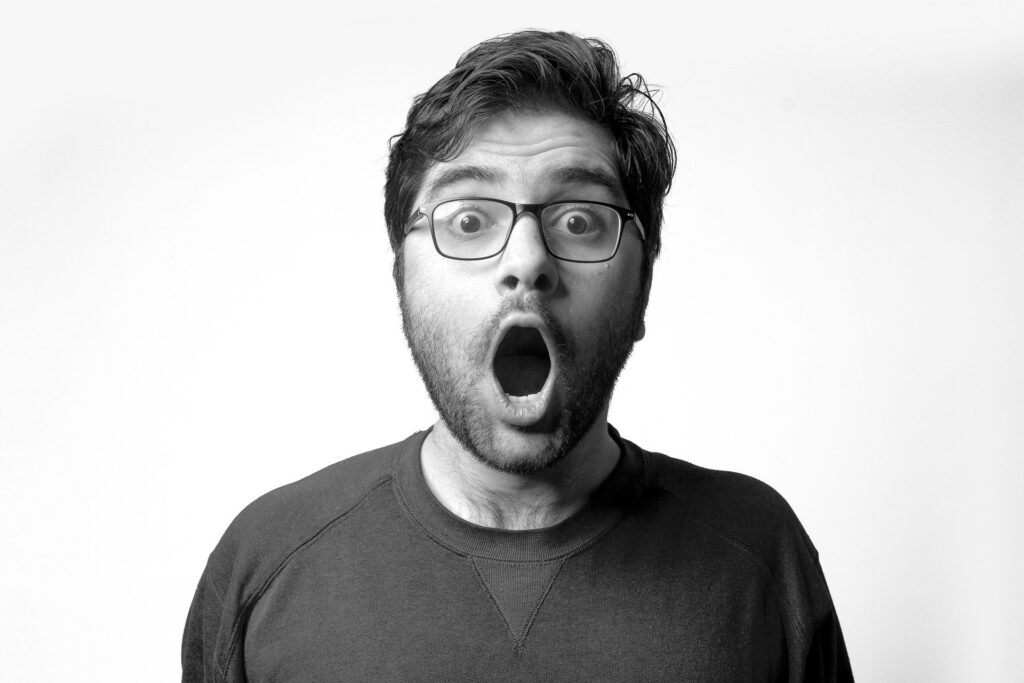 In 70% of the cases, if you irimi, you're going to hit somebody with the force of your entire body. What about the other 30% though? That's covered by the second half of the quote. Those 30% have training, and one of the first things taught in any martial art, is how to defend against an aggressive movement. They can guard against your strike competently, so you have to do something else. That something else becomes a technique of aikido. You've manipulated their defence sufficiently that you can do aikido, and they've prevented the atemi sufficiently that you have to. If not, they hit you.
In case it wasn't obvious, this applies to all of aikido. To every technique that we practice. Essentially, all aikido movements are supposed to be striking. It just doesn't look like a striking art.
But Aikido Is Neither Attacking Nor Striking
Are you completely sure about that? The majority of aikido techniques require the use of some form of atemi at the entry. Ikkyo omote only makes sense if you regard it as an attack. Then there's this quote itself.
The thing to realise is that we're not talking about punching and kicking. The striking suggested is nothing like what you would see in e.g. muay thai. This is a very different thing. It's more about the mindset of the aikidoka than anything else. In particular, this is about accepting a fundamental truth of our techniques and understanding what will happen.
Outside of a dojo, you're going to hit people. That doesn't have to be your desire, or even your intention. It's simply a natural consequence of doing aikido against a person that has no idea how to fight. You're not doing it on purpose, it just happens. It's a binary state, they either know how to defend or they don't. If they don't, then they get hit. The quote is telling us that 70% of the time, they get hit.
As aikidoka, we have to be mentally prepared for what happens next. In 100% of the cases, you should be prepared to perform aikido. In 70% of the cases though, that won't be necessary. The reason being that you've just hit the person with your entire body weight and superior biomechanics. Often, that will act as a solid deterrent to any follow up. Not necessarily though, so you may end up having to do something else anyway.
This entire concept is not about striking, it's about more than that. It's about letting the fundamentals coalesce in your body to turn it into a solid, explosive, striking force. It's about having a hitting body, and accepting that you may have to use it.
The Most Accurate
It's just possible then, that when considered in context, this is the most accurate quote to describe aikido outside the dojo. It makes sense considering the nature of our art, and with what we know about O Sensei. After all, Kisshomaru himself explained that his father was not a pacifist, and aikido was not a pacifist practice.
Maybe this quote doesn't need to die. Perhaps it just needs a better understanding of what aikido is, and can be. That when you apply the martial element beyond the dojo, you're going to hit somebody, and then maybe grapple.
Aikido may well be 70% atemi, just not in a way you've every considered before.
---
If you can afford it, and would like to help out,
consider donating some brain fuel!
Also, if you enjoyed this post you can find further insights in this book.