This post is the third in the four part series on competition in aikido. The series started with a defence of competition, this post will begin the arguments against it. Many aikidoka feel that competitive aikido is bad, and they have valid reasons for doing so. We'll examine them below but note that these are not counterpoints to the arguments in the previous posts.
Define Competition
People that think competitive aikido is good often point out that you are already competing against yourself. The idea being that to improve you're making a comparison of your progress, which is a form of competition. While true, this doesn't apply here. This isn't the type of competition people mean, so the argument is invalid. Competition, with some form of judging and reward, means competing against other people.
The format this takes is irrelevant, there has to be at least two people entered. In this context, competition is about testing yourself against others, not yourself.
Competitive aikido is bad, because it will force you to contest against other people.
It Wasn't Designed That Way
Consider aikido for any length of time and you'll see that it wasn't designed for a competitive setting. This is clear in both the philosophy of aikido and even the techniques themselves. Competition means competing against other people and this was not aikido's original intent. The opposite seems to be the case. Aikido was designed to permit you to defend yourself against multiple attackers, with the option to do extreme harm in the process.
Competition often means a form of sport, which means excitement for a crowd. Sport involves money, and people don't pay to watch a 5 second fight. In fact, they get quite upset when that happens. They feel a little cheated. To make aikido into a competitive sport would require a serious rework of what the art currently is. We would have to exclude many techniques and alter others to make them safe for that environment.
Competitive aikido is bad, because it would result in a much smaller curriculum.
It's Too Brutal
The techniques of aikido are not very safe. People see aikido and think that it is a soft and gentle martial art. Some people say it isn't even a martial art at all. These people are wrong. Whether it is or not depends on how you choose to define a martial art. However, it's difficult to omit aikido without also excluding something that is obviously a martial art. As for the soft and gentle, that's a different matter.
On the surface, aikido is a soft and gentle art. It only appears that way for two very specific reasons. The first is ukemi. Right from the first class we teach students how to fall safely. The ability of an aikidoka to roll out of danger is second to none. We are market leaders in this regard, perhaps only rivalled by Professional Wrestlers (i.e. WWE). The difference is that for us it's a hobby, for them a job, and they get injured a lot more.
We cut the danger on every single throw almost completely by rolling. Couple that with real ukemi and the injury rate drops substantially. This aspect of our art gives a false sense of safety to both observers and aikidoka.
The second reason it seems gentle is about choice. Aikidoka choose not to destroy their uke. They make this choice on every single technique. If aikido is executed correctly then after the initial contact several things should be taking place:
Uke should be completely off balance
Nage should be in a position where they cannot be hit
Uke should be vulnerable to numerous atemi
Nage should be in a martially strong position compared to uke
If that is the case then the only reason uke does not receive severe damage is because nage chose not to inflict it. This is part of how aikido makes you a better person, but also why it appears to be soft and gentle.
Competitive aikido is bad, because it would force use of a brutality in the techniques that is against aikido.
About Budo
Currently aikido is not a sport, it's a budō. The difference being that budō is a way of life, not competition. Literally translated it means 'martial way' or 'way of war'. The argument here is that budō concerns itself with life and death. The idea that a competition can be part of this is somewhat ludicrous. It trivialises the seriousness of the training; the goal of what we are practicing.
Aikido, if properly trained, can turn an individual into an interesting paradox. A highly efficient killer with an iron code of morality that prevents them ever actually extinguishing a life. A person that is so good at violence they will avoid it at all costs.
An aikidoka, with a full understanding of the art, knows precisely how dangerous it can be and so seeks a life of peace. They are not running from a fight or violence. They know that there are times when they must face the violence, but it is always with reluctance. In many ways this concept is at the heart of the techniques we study.
Outside the realm of action movies it would be very rare for the concept of budō to intersect with a sport.
Competitive aikido is bad, because it trivialises the very nature of what aikido is.
That Means Rules
There is an aspect of aikido that many regard as a weakness but is the opposite. The lack of competition is one of the greatest strengths of aikido training. For all the arguments about competition improving things, it needs a set of rules. No competition means that there are no rules. Other than convention (and lack of practice), there is nothing to prevent you from eye-gouging an uke during training. Many places would consider this unacceptable, but it's not really banned.
Consider the rules of any fighting sport. Eye-gouging is always illegal, go ahead and check if you like. Even UFC 1, the birth of the behemoth that is most associated with BJJ, MMA, excluded eye-gouging.
If you can successfully land an eye-gouge the fight with that individual is over. It is perhaps one of the most effective fight enders going. It is also very dangerous, hence its exclusion from competitions.
Altering this by adding a set of rules would decrease the options available to the aikidoka.
Competitive aikido is bad, because it would force an arbitrary set of rules upon us.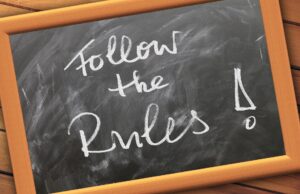 Training To The Rules
As noted, with competition comes rules. There is a strong argument that this would severely curtail the training of aikidoka. We can see at least two very well known examples of this today: judo and taekwondo. A phrase often heard when discussing competitive aikido goes something like this, "Absolutely not, just look what its done to judo/taekwondo!"
These are two well-known Olympic sports. There is also a wealth of information available for why this has been detrimental to each Art. You don't have to look hard to discover that many practitioners argue that people train to the rules, sometimes dangerously. It is not unknown for judoka to deliberately land on their head when thrown. This lets them avoid landing on their back and conceding the match. For very obvious reasons this is not a good idea, but it's not against the rules so some people do it.
Another example of this is MMA. Regardless of the alleged fighting prowess of its practitioners it is a sport. As such they only train to the rules. Advocates claim that MMA reveals all faults in a system. This is because it has a pure testing ground and is the closest thing to a real fight that exists. There is so much wrong with that claim it's not even funny. The important point here though is that the limits of the rules mean they deliberately ignore many valid techniques. Not because they 'don't work in a real fight' but rather because they do. There is a list of excluded techniques that are not trained in MMA because they are too dangerous. As such, they don't practice them. To put it in the most obvious way possible have you ever seen a Boxer practicing round kicks?
Competitive aikido is bad, because the accompanying rules would inevitably lead to people training for the rules.
End Of Part 3
There are, obviously, other arguments as to why aikido should not have a competition element. Next week's post will address these.
If you don't want to wait, or would like to read the expanded arguments, and their counters, consider picking up the e-book for the price of a coffee.
About Aikido: Competition is available now on Amazon.
N.B. The author may not hold the views above.
---
If you can afford it, and would like to help out,
consider donating some brain fuel!
Also, if you enjoyed this post you can find further insights in this book.