For this months topic we're going to take a look at one of the more advanced concepts of aikido. This is likely to be much more of a style relevant subject though all aikidoka should strive to remain calm. Some styles for instance seem to go out of their way to ignore this subject but almost everyone's aikido can be improved by taking this idea to heart and applying it to their technique.
This idea is that you really shouldn't disturb the mental processes of your uke.
For the purposes of the following we will make the assumption that while under attack from uke the nage is able to remain calm and in control of themselves. What does that mean for the series of events that follows?
During every technique nage attempts to remain calm. The reason is that if they are not calm there is a high probability that they will start to apply force to uke to 'make' their technique work. This will happen regardless of what that technique is. Unfortunately, aikido isn't really designed to operate like that. It's actually structured in such a way that the energy of uke is the driving force. You already know this. This is aikido day one, lesson one, basic principles – let them do the work.
The moment that nage begins to pull, push, twist, or in any way force the uke into a series of movements the uke will begin to resist. This is a fairly instinctual reaction that takes place without any conscious input from the uke. (As a side note that means you can get away with manipulating an untrained opponent much more than a trained opponent. The difference being that the trained fighter has conditioned responses to things that they don't need to think about, it just happens. In the same way the aikidoka is conditioned to avoid the Line of Attack at all times.)
This resistance is taking place as a result of a stimulus that nage has provided. If nage pushes, uke pushes back. While the initial resistance will be in the subconscious the continued resistance will be a conscious choice. As such we can bypass all of uke's efforts to counter nage by never providing the stimulus in the first place. If nage never pushes then uke is never triggered to push back. There is nothing for the subconscious to respond to.
For the aikidoka this means that we must, at all times, avoid doing anything that would cause the subconscious of uke to respond. To put that another way, we must not disturb uke's mind.
At the start of the technique uke has a specific goal, to hit nage. Nage also has a specific goal, to not be hit. These goals are clearly incompatible and unless nage does something to thwart uke's ability to complete their goal then uke will keep trying to hit nage. This is why nage does aikido.
The swiftest resolution for nage then is to allow uke to attack once and only once. If uke gets a second attack then nage has done something wrong. To avoid prompting a second attack uke needs to believe the first attack either will, or has, succeeded.
The instant uke no longer thinks that is the moment that they attack again in a different way. They abandon their current effort, reassess the Line of Attack and start again. This can happen at any point during a technique.
Nage's best defence against this happening is to never poke uke's mind. By blending with the uke, allowing them to continue, nage can guide the uke's energy along a path that allows nage to achieve their goal of only being attacked once.
This guiding may sound like manipulating, and in a manner of speaking it most certainly is. Nage needs to keep uke's energy going in some fashion, usually through subtle off-balancing. There are 2 ways to do this though.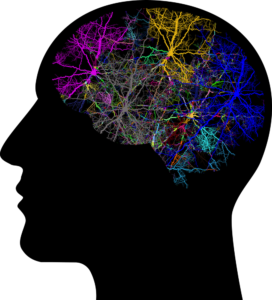 Imagine that uke and nage are walking along a road and they come to a 'Y' junction. Nage wants to go to A but uke want's to go to B. Nage could just push, pull or shove uke towards A. This results in a fight. An argument breaks out because nage is contradicting what uke wants to do. This is the method that most beginners use.
A simpler option is for nage to swap the road signs when uke isn't looking so that B points to A. Uke will now happily go towards A even though it was never what they first intended to do.
The decision has been made by nage without uke ever realising it.
Ultimately, as we perform techniques we want to do so in such a way that uke doesn't realise what is happening. The subconscious of uke should be happy to continue with the initial attack because it appears to be working. The conscious though will likely be confused by all this, but not quickly enough to respond to what is happening. Thought processes take time to complete and for uke they will take too long.
---
If you can afford it, and would like to help out,
consider donating some brain fuel!
Also, if you enjoyed this post you can find further insights in this book.